16:9 Ratio Calculator
Enter here your desired width for the image or video to get the actual height needed to maintain the HD 16:9 aspect ratio when resizing it ✅.
The 16:9 Aspect Ratio is commonly known as the widescreen aspect ratio for most televisions and computer screens. Since 2009 the 16:9 format has been an international standard format for HDTV, widescreens tv, movies, and smartphones.
Today most of our phones and cameras can record videos in 16:9 HD format. The 16:9 aspect ratio gives us the ability to make beautiful videos perfectly fitting for any widescreens and social media. Please find below a list of the most used 16:9 resolutions.
Common 16:9 resolutions
640 x 360 (nHD)
854 x 480 (FWVGA)
960 x 540 (qHD)
1280 x 720 (HD)
1366 x 768 (WXGA)
1600 x 900 (HD+)
1920 x 1080 (Full HD)
2560 x 1440 (QHD)
3200 x 1800 (QHD+)
3840 x 2160 (4K UHD)
5120 x 2880 (5K)
7680 x 4320 (8K UHD)
15360 x 8640 (16K UHD)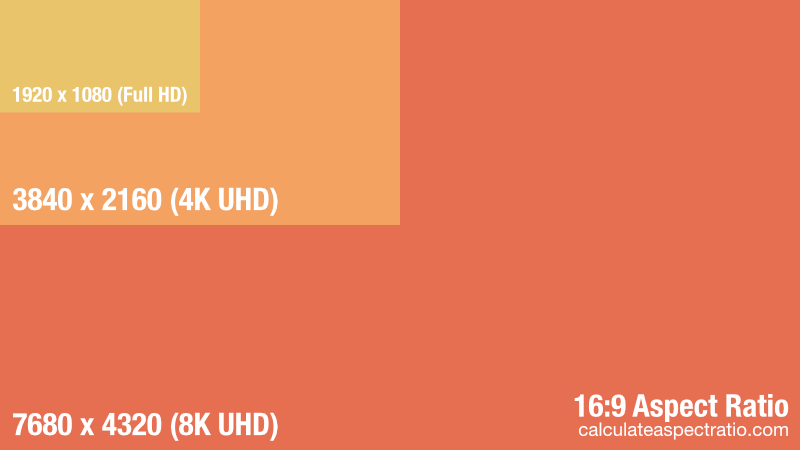 Based on desktop screen resolution statistics from July 2020, the Wide XGA (1366 x 768) is still taking the lead in front of the Full HD screen (1920 x 1080).
The WXGA format is often found on inexpensive LCD computer screens and low-end LCD flat screens.